Bags have a unique place in our hearts when it comes to accessorizing. They are not only useful, but they also express our particular style and fashion choices. If you want attractive bags that are both eco-friendly and flexible, look no further than Travags. Travags has an exceptional variety of jute and cotton bags that appeal to your individual tastes while embracing sustainability. Let's look at the elements that make these bags a must-have for your wardrobe.
Style That Speaks for Itself:
Travags recognises that fashion is an expression of one's uniqueness. As a result, their jute and cotton bags are fashionable and eye-catching. Their selection features a number of alternatives that are likely to complement any outfit, from brilliant colours to exquisite designs. Travags offers a bag that can instantly enhance your style game, whether you choose a traditional, minimalist design or a bold, statement item. You can confidently make a stylish statement while supporting sustainable choices because of their attention to detail and devotion to quality.
Vibrant Colours for Any Occasion:
Carrying a bag should be an uncomplicated experience that allows you to move freely throughout your day. Travags knows the value of portability, and their bags are built with this in mind. These bags provide convenience without sacrificing flair, thanks to their comfortable straps and ergonomic designs. Travags bags are intended to give optimum comfort, so that you may carry your things with ease and confidence, whether you're commuting to work, running errands, or travelling.
Longevity that stands the test of time:
Purchasing a bag should be considered an investment in a long-term partner. Travags takes pleasure in producing bags that are long-lasting and designed to resist the rigors of daily living. Their jute and cotton bags are composed of high-quality materials, so they can withstand the rigors of your hectic lifestyle. Whether you're a student, a working professional, or a regular traveler, your Travags bag will be dependable and fashionable for years to come.
Accept Eco-Friendliness:
Travags' ideology is based on sustainability. Jute and cotton, the major materials utilised in their bags, are biodegradable and environmentally beneficial natural fibres. By using jute or cotton bags, you are consciously reducing your environmental impact. These materials have a smaller carbon footprint than their synthetic counterparts and contribute to a more sustainable fashion sector. Travags' dedication to environmental stewardship lets you carry your possessions with pride, knowing that you're making a difference.
Personalization to reflect your personality:
Travags thinks that your luggage should reflect your individuality. That is why they provide adjustable choices, allowing you to personalize your bag. Travags allows you to build a bag that genuinely represents your personality by monogramming your initials or picking a distinctive design element. Customization adds a degree of uniqueness to your bag, making it even more precious and significant.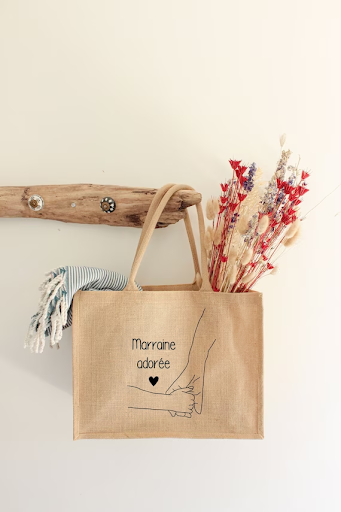 Sizes to Fit Every Need:
When it comes to bag sizes, we all have various needs. Travags recognises this and offers a variety of sizes to meet your individual requirements. Travags provides the appropriate size for any occasion, from petite crossbody bags for your basics to large totes for your everyday requirements. Our considerate approach guarantees that you never have to sacrifice aesthetics or practicality.
Travags' jute and cotton bags combine design, vibrant colours, ease of handling, comfort, durability, eco-friendliness, personalization, and a wide range of sizes. By selecting a Travags bag, you not only improve your fashion statement but also help to make the fashion industry more sustainable and mindful. Embrace these eco-friendly items to make a difference while displaying your individual style. Allow Travags to be your trusted fashion partner, guaranteeing that you never compromise on style or sustainability.